On the spur of the moment during Cebu Pacific's #PisoFare early this year, without any local destination in mind, I just picked Bacolod out of the blue. I had 7 months to prepare however, it was only a few days before our trip, till I finally realized where were going! A dose of vitamin sea of course!
Lakawon Island is the perfect choice since it is just approximately an hour away from the capital, Bacolod City. Lakawon Island itinerary? No need! You can get conquer this on a day tour!
HOW TO GO TO LAKAWON ISLAND?
From your hotel, go to Bacolod North Bus Terminal. Ride a bus going to San Carlos and drop off at Brgy San Andres Terminal. Just tell the bus conductor you're going to Lakawon Island. From Brgy San Andres Terminal, ride a trike going to Cadiz Viejo Port and there's your boat going to Lakawon Island.
LAKAWON ISLAND EXPENSES
Below is a quick summary of expenses. First 3 items are back and forth cost.
TIPS
– Ordinary buses are faster and cheaper!
– There are 2 places named Cadiz, one is the city, the other is the port called Cadiz Viejo. Don't be like us, we first arrived at the city instead and then headed back to the port haha
– The earlier you get there, the better! The boat won't leave until it is full unless you pay for every seat.
– Bring lots of foods and drinks! This will save you a ton!
– Don't rent a cottage (P600 is the cheapest), instead opt for their Floating Bar. This was actually suggested by the reception, glad we did!
– Last trip of the boat is 5PM.
For more information, rates, and promos, visit their website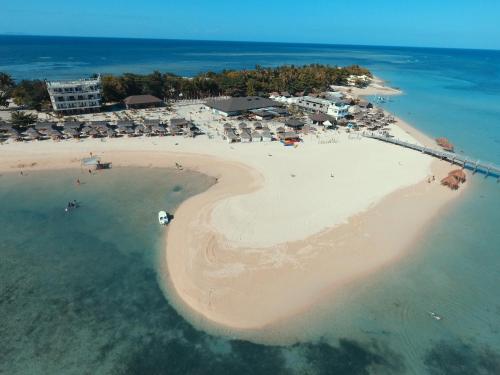 Here are the cheapest hotels in Bacolod. Book your stay in now.
Okay let's get the pictures talkin!
Here is the map route found at the bus terminal.
Up early! Ordinary bus going to Lakawon
A lot of sugar cane fields on scenery. How I love the fresh air here!
Brgy San Andres Drop off terminal
The trike on the left will take you to Cadiz Viejo port.
Lakawon Island Resorts & Spa's Van which will take you to the terminal and to the port. I believe it can be arranged to have you picked up and dropped of at your hotel. Of course, it is more expensive.
At Cadiz Viejo Port. I told my girlfriend that's the floating bar and she bought it XD
There's the boat and the island visitors.
Everyone is provided with a life vest. The waters are calm and it's only like 15 minutes boat ride.
As you get closer to the island, you'll see a large floating boat. That's TawHai Floating Bar, the biggest floating bar in Asia.
Lakawon Island – indeed a must visit when you're in Negros. The waters are calm and the sands are fine. Even kids would definitely have a great time in this island. Beautiful and picturesque! Party goers would even enjoy this, there's party music everywhere and they can go drinking all day 😀
Here is the restaurant. Be sure to be seated next to the big electric fans hehe
This is their AIRCONDITIONED comfort room. Under renovation. when we were but the AC is functioning well.
Big part of the island is still under construction.
lakawon island website
lakawon island floating bar
lakawon island reviews
how to get to lakawon island from manila
lakawon island blog
how to go to lakawon island from manila
lakawon island itinerary
lakawon island guide
lakawon island 2017
lakawon island 2018
how to go lakawon island